Infor recently presented CloudSuiteTM, the first suite of applications for vertical industries available in the cloud via Amazon Web Services (AWS).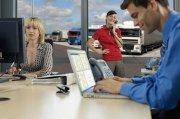 Infor CloudSuite offers a beautiful software to look at and to use, with specific features for each industry  and a use model in consumption, which significantly reduces the initial IT investment. Each vertical suite available in Infor CloudSuite has been created by combining applications that historically were implemented independently with the aim to make available the main business functions for a given sector . These features, together with a method of provisioning quick and simple and a SaaS pricing model enable Infor CloudSuite to change the way in which the enterprise software is distributed and used by customers.
Infor plans to release the suite of applications for vertical industries, distributed by AWS in 2014 from spring with Infor CloudSuite Automotive , Infor CloudSuite Aerospace & Defense and Infor CloudSuite Hospitality. At the beginning of the summer Infor plans to release CloudSuite Corporate, with a base of innovative financial functionalities and the entire Infor suite of human capital management .