The need to improve communication and collaboration in the workplace, to increase employee engagement, to accelerate decision making and to boost productivity leads the global market for enterprise social networking . The companies are integrating significant social collaboration features  in workflows to dynamically connect people and information at the appropriate time , rather than relying on static collaboration tools traditionally used .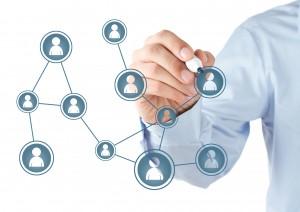 A new study of Frost & Sullivan, entitled " Analysis of the Global Enterprise Social Networking Market", notes that the total number of subscribers to the enterprise social platforms will increase from 208 million in 2013 to 535 million in 2018. Currently , there are about two billion workers in the world who could benefit from social technologies in several business industries, organizations, places, and professional roles.
" The company social networking continues to have a strong appeal because it combines the ease of use and the nature oriented to relationship of social commercial media with more powerful features and enterprise control - said Robert Arnold, ICT Program Manager and Principal Industry Frost & Sullivan - . In addition, its ability to significantly improve agility, responsiveness, innovation and customer service companies, through increased employee access to information and expertises, strengthens the market. "
The benefits of the expansion of the business through social channels are located at the vertices approval decision , but each organization must establish realistic expectations and measure performance (sometimes creatively ) to make the significant value proposition for your specific situation. You need a change in the behavior of employees and the corporate culture to encourage the participation and commitment of the critical mass of users necessary to the success of enterprise social networking .
In addition, the future of business collaboration requires a more intelligent combination of different tools that can be customized to best fit the specific needs of each organization and the working team. Manufacturers have started to provide solutions that meet these requirements, with some leading platforms that offer robust capabilities for analysis and reporting, and that not only demonstrate the true value of social skills at the corporate level, but also give important insights to companies to adapt their business strategies to market conditions and other external and internal factors .
However, concerns about governance, risk, compliance and security - especially in regulated industries and lines of business - will remain a key challenge as long as the solutions for enterprise social networking will not ripen further and customers become more educated about its value .
The financial services industry is one of the main users of these solutions through better education, careful planning and implementation strategies and use well defined.