march newsletter 2015

TWINGROUP JOINED THE SOCIAL BUSINESS COLLABORATION MEETING AT POLITECNICO DI MILANO
Nova Milanese, March 25, 2015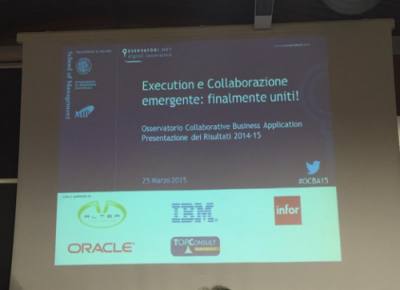 Yesterday the conference "Execution and emerging collaboration: finally united" was held at the headquarters of the Politecnico di Via Durando 10 in Milan. The Professor Stefano Mainetti, scientific director of the Observatory Collaborative Business Application, and his team of researchers, presented the datas of the second research about the phenomenon of "Social Collaboration", an initiative created to understand how to improve the performances of business processes by integrating collaborative tools in the current Enteprise Information Systems.
ENTERPRISE MOBILITY AT THE 2015 MOBILE WORLD CONGRESS
Posted on March 3, 2015 by Allison Erdman on Catavolt Blog
The 2015 Mobile World Congress took place in Barcelona from March 2-5. With mobile devices and apps driving major technology breakthroughs throughout the world, the Mobile World Congress hosted industry leaders, visionaries, and innovators to explore the trends that are shaping mobile technology in the years ahead.
Upcoming industry trends has been a highlight of the 2015 Mobile World Conference. As mobility continues to expand into new industry segments such as retail, banking, and healthcare, the Mobile World Congress is committed to providing attendees with access to content most relevant to businesses.

INFOR XA CASE STUDY

MWU CURIONI OF BARRY WEHMILLER GROUP GOES IN LIVE WITH INFOR XA RELEASE 9.
Twingroup Global Solutions, Infor Partner and World Class ERP software supplier, announced that MWU CURIONI went in live with Infor XA on October 1, 2014. MWU CURIONI is a company of the American BARRY WEHMILLER group and it takes part of the BW PAPERSYSTEMS division.
TWINGROUP WEBINAR CALENDAR
APRIL 2015:
1. THE CATAVOLT PLATFORM TO CREATE CUSTOMIZED MOBILE APPSPRIMARY TABS
April 14, 2015 at 16:00 H (CET)
TwinGroup Global Solutions Srl

Via Venezia 2, 20834 Nova Milanese (MB)

Tel.: +39 0362 459668

Fax.: +39 0362 360126

contact@twingroup.com