IBM i, AS400, iSeries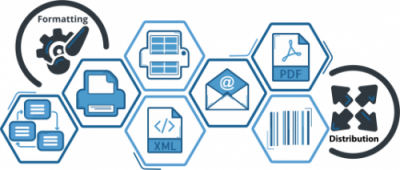 InterForm400 is an Intelligent Output Management solution that gives you total freedom to design, handle, and distribute your documents. InterForm400 handles the entire document workflow of your IBM i without the need to reprogram any of your applications, and it automatically selects e-forms based on print data or spool attributes. InterForm400 accommodates many types of distribution. The result is a functional, intuitive, flexible, and stable product, allowing you to focus on your core business. Streamlining your document output with InterForm400 will increase your competitiveness and your efficiency. Reduce transaction costs with InterForm400 by converting normal paper-based routines into electronic processes. Using InterForm400 across all of your applications can increase your ROI, add improved functionalities, and streamline your document output.
INTERFORM400 FUNCTIONALITIES
Design Options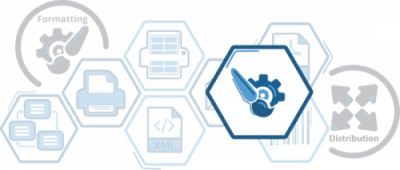 Turn your data into documents with InterForm400's state-of-the-art graphical design tool, featuring drag-n-drop and WYSIWYG editing modes for easy and quick design. View your changes in a live preview. Create any type of design using customized fonts, images, barcodes, and more. With the InterForm400 designer we give YOU the tool so you can create new or change existing designs on your own. Using InterForm400 for formatting your documents will save you a lot of both time and money. InterForm400's graphical design tool is installed on a Windows PC and linked with the IBM i or AS/400 where InterForm400 is installed. Once you're done, your changes are instantly updated on the host server. Simple and easy.
PDF & Email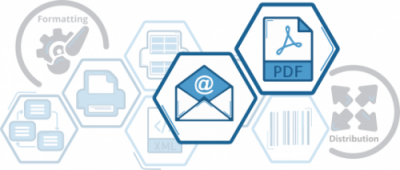 Instead of printing all your documents, InterForm400 allows you to create multiple PDF formats. This is done natively via the in-house developed InterForm400 PDF engine. All PDFs are genuinely searchable PDF files that can automatically be archived and emailed. InterForm400 natively supports PDF, PDF/A 1b, and PDF/A 2b. PDF/A 3b is supported through the AdvancedPDF400. The PDF/A format ensures that you are able to reproduce the exact same PDF format and content in the future. Everything that is required to render the document the exact same way, every time, is embedded in the PDF/A file: fonts, colour profiles, images, etc. AdvancePDF400offers features like embedded PDF and PDF Security/Digital signature..
Barcode & Unicode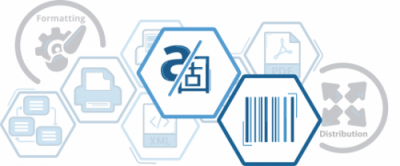 InterForm400 allows you to create modern-looking documents, in any language, and using any font or barcode directly on the IBM i (AS/400, iSeries).                                         Unicode or DBCS is a standard feature that can be used across all of our output options. Creating international documents in Chinese (including Simplified Chinese, Traditional Chinese and HKSCS), German, English, Thai, Arabic or Russian is easy with InterForm400's Unicode support. It is even possible to create documents containing multiple languages (code pages).  
InterForm400 supports the use of any True Type font* giving you the flexibility to create exactly the output you like. You are even able to use multiple fonts in the same document or change font according to conditions.  InterForm400 includes a wide variety of 1D (linear) and 2D barcodes. Barcodes can be used across all output channels. Simply select the Spool file data and concatenate it to the preferred barcode(s).The list of supported barcodes is dynamically growing in response to both common and local or industry specific barcode development.
Stampa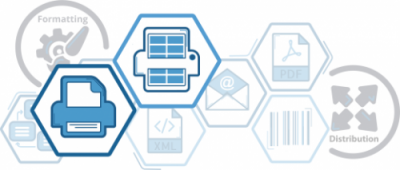 Printing from the IBM i (AS/400, iSeries) is a native functionality in InterForm400, designed to handle both small jobs of a few pages and large volume jobs of many thousands of pages. InterForm400 enables you to print labels, lasers, and checks directly on the IBM i. InterForm400 comes with its own developed print protocols that communicate directly with printers via the native printer language. This offers enhanced performance and gives you full control of the content. InterForm400 reduces the print stream by using native printer resources, macros, and advance printer controls. With InterForm400, no printer drivers are used, reducing complexity and increasing performance.
Label printing is extensively used in almost every industry today, especially within the manufacturing, warehousing, and distribution processes. For our customers, meeting supplier guidelines and industry standards are crucial requirements. Whether you are in the automotive industry and following trading partner guidelines, or in Healthcare and required to follow the GS1 standard, InterForm400 gets the job done.
Label Printing Features
Full barcode support
Native Zebra and InterMec protocols
Font support including superscript and subscript
Create any design native on the AS/400
Form packages for many industries
Full DBCS/Unicode
RFID generation 1 and 2 support
Remote printer preview (Zebra)
Laser printing or printing is our oldest distribution channel but also our most advanced output channel. From a time with low printer memory our PCL protocols are optimized to be able to manage millions of printouts. InterForm400 supports the majority of all brands and devices in the market through our native support of PCL4, PCL5, PCL5e and PCL5c protocols. Connect any any supported laser printer to InterForm400 and experience a powerful and advanced printing engine.
Laser Printing Features
Color and black & white control
Full DBCS/Unicode
Tray and output bin control
Barcodes, images and font support 
Stapling, punching, drilling
OMR marks and barcodes
Static and dynamic image support
Sort, split and group
Automation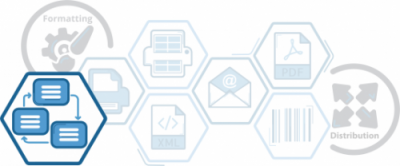 The heart of InterForm400 is called AutoFormsControl (AFC). With AFC you are able to setup rules for how to receive and manage data and to specify output distribution.
AFC is a sort of workflow manager that allows you to print, email, or PDF (archive) a spool file based on rules and conditions, among other actions